Commercial CRM systems help companies gain a better understanding of who their customers are, what they are purchasing, and how loyal and committed they really are. Such systems lets establish a "business-client" relationship so that businesses and their clients can communicate with each other and solve issues. Although hundreds of commercial CRM programs have dozens of features and options, there is a typical functionality that drives effective customer relationship management. This functionality includes Goal Setting, Customer Service, Sales Management, and Campaign Management.
Learn how to use CentriQS for
Managing Customers & Sales
CRM Goal Setting
CRM is a business approach that maximizes the relationships of a company with all types of clients. The true value of the CRM approach is that it lets transform strategy, processes and functions into clear and feasible goals for personnel. It means that business managers and executives get a mechanism that enables to set dependency between smaller goals and top business priorities. Salespeople, support specialists, operators, and other personnel get a clear understanding of what tasks and actions to do to pursue customer initiatives and commercial goals.
Task Dependency for Commercial Goals
With help of CentriQS software you break down your commercial goals into smaller tasks and sub-tasks with possibility of setting predecessor-successor dependency. For example, your commercial CRM goal "Streamline contact with customers" can be divided into such sub-tasks as "Identify reasons of dropped calls", "Involve more operators", "Modernize communication equipment", "Deploy an issue ticket system", "Upgrade computer hardware", "Provide customer service 24/7". The Predecessor column in the Tasks view shows you what tasks are depended on other tasks.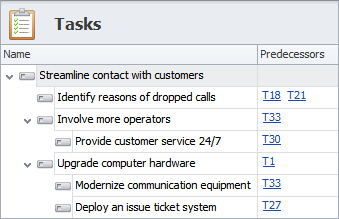 Customer Service Data
It is impossible for a company to earn a competitive edge without serving its clients and prospects. High-quality service is the guarantee that customers will be loyal and committed to your business. The more information you know about your clients, the better service you can maintain. You need a commercial CRM system that lets you collect, keep and process client data.
Ideally, you need to create a centralized database in which you and other personnel can share information on business contacts and client requests. When a new request is received (e.g. a client emails feedback regarding your product) you can register it in the database and then assign one or more employees who will process the request and communicate with the client.
CentriQS offers you commercial solutions to let you manage customer service workflows. This system creates a database to help you deal with client complaints, track orders, and collect business contacts. You can navigate between the Customers view, the Orders view and the Issues view to manage client data. If you want to get all information on one screen, you can create a customer support dashboard.
Sales Management
As you grow your business you have to look for new sales opportunities with existing and new clients. Sales management is one of the core activities that ensure lead generation and revenue growth. In CRM software, like Oracle CRM on Demand, Microsoft Dynamics CRM, SAGE CRM, sales management is one of the basic features to let your sales teams plan and manage communications with buyers and prospective customers. It provides your sales force with greater efficiency as they are enabled to automate their activities and manipulate client data in one database.

Data-rich Client Base
With help of CentriQS you can develop and follow your lead generation strategy. This CRM system lets you plan all sales-related activities including prospecting, advertising, networking, referral marketing, presentations, etc. Your data-rich client base will help sales personnel make appointments with prospects, schedule demos and presentations, organize meetings, send emails, etc. The Sales Analytics view will provide insight into leads performance and sales revenues.
Customer Relationships Made Deeper
Customers always expect exceptional service and connection from companies. As their trusted advisor, you can deepen your most important client relationships by means of CentriQS. The program automatically notifies you of important dates, delays, changes, and deadlines. It enables you to stay on top of performance and improve communications with customers.
Better Pipeline Perspective
With the 360-degree view provided by CentriQS analytics and chart, you are enabled to focus on existing clients and visualize the opportunity to attract more prospects. The package lets you better capitalize on revenue opportunities of your prospects and maximize the profitability of your buyers. In CentriQS you can assemble complete customer profiles that allow salespeople to see all essential data, interactions, purchases, and account history on one screen.
Better Group Collaboration
Sales management success is greatly about group collaboration. With CentriQS CRM system in place, you'll be able to share client data with salespeople, marketers, analysts and others in your organization. Your client base will be centralized in a single location, and access to this base will be managed by user permissions, leaving it always up to you to decide what is allowed for sharing throughout the company.
Campaign Management
Managing business campaigns, from corporate events and phone calls to complex PR campaigns and marketing surveys, improves business efficiency and effectiveness. Campaign management helps you enhance client loyalty and increase higher rates of new acquisitions. With help of CRM systems you get flexible deployment options to plan and drive your campaigns.
CentriQS offers you commercial CRM solutions to plan, test and execute business campaigns of any type. All of your campaigns can be presented as projects and managed according to your business needs. CentriQS lets you plan tasks and activities, measure campaign performance, view advanced analytic reports, manage employee assignments, etc.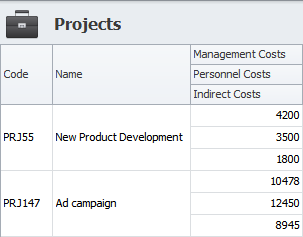 Record Management
CRM requires effective record management that ensures systematic administration and updating of records and documented information for the entire CRM life cycle, from targeting and prospecting to product purchase and customer support. Record management is a continuous process for creating, classifying, using, retaining and archiving business data.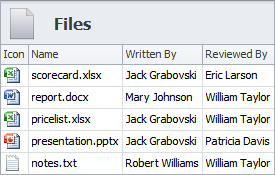 When you use CentriQS software to manage your business records you get a complete solution to save, retain, update and organize documents and files of various formats. In the Files view you can upload docs, add hyperlinks to local or remote files, dedicate users who will review and approve documents, track date when a file has been modified or created, etc. Filters will help you quickly find necessary docs. Your files can be related to other entities available in the database. For example, you can relate your documents (invoices, contacts, specifications, etc.) to customers and purchase orders.