Create Work Orders Database
All information about work orders and related business activities should be stored in one digital repository to make it possible to retain, track and update necessary items. With help of work order software you can create a centralized database on your server that is accessible by your personnel over local network or Internet. This database will keep all essential information about clients, requests, projects, procurement items, production operations, etc. It will help you analyze business activities and monitor work performance.
In CentriQS database you keep and manage every piece of data relating to your business activities. Any information on work orders, tasks, issues, customer profiles, schedules, projects, supplier requests and other business objects can be retained, retrieved and updated in your database. You can link work orders to other entities such as Tasks, Projects, Clients, etc. Your database will be a single repository that keeps all work orders and lets you quickly switch to other business entities.

Add, Prioritize and Search Work Orders
Adding an item in work order software shouldn't be complicated but easy and quick in order to allow users to dedicate more time to doing their job rather than organizing it. Presets, templates and ranking system will help users create new work orders in a few seconds and prioritize their activities. In addition, a powerful search capability of work order software will simplify data search and navigation.
CentriQS allows you to add work order requests either manually or through customizable templates. The program also supports flexible database configuration, so your work orders can be tailored and configured according to your business needs. CentriQS lets add custom properties to your 'Work Order' entity, for example you can add custom property 'Priority' to rank all jobs and requests of the entire work order process. The software also enables multiple search criteria to let you quickly find needed orders within the database.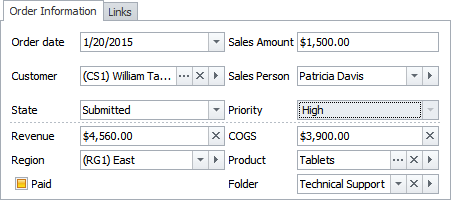 Work Order Tracking and Alerting Software
An alerting and status tracking system in work order software should provide the capability to automatically notify employees of new items created or modified and to communicate the status to the job supervisor. Such a system could trigger an alert to operators, sales reps, technicians, engineers and other personnel involved in order management. Alerts could be sent by email or within the interface of work order software.
CentriQS successfully addresses this challenge. This program features a flexible system of subscriptions that enables sending reminders and notification alerts internally within the program or externally by emails. When a new item is added to your database, an assigned user will be immediately notified of this fact, and when the user modifies the State of the item the manager will get a notification. The system enables work status tracking through alerting to make it easier for your employees to do their job. It works the way that only dedicated users will receive appropriate notifications and alerts, without any clutter that some dedicated users are not reminded.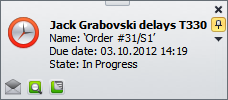 More Features and Benefits of CentriQS Solution
Order Folders and Notes
The program lets you organize your work orders by folders and add RTF notes to provide streamlined hand-off of data, so the entire personnel of your company will know exactly which requests, projects, procurement items, or issues need to be considered. Notes can be printed out, and folders can be used across your entire database. This transfer of work order data from between your staff improves overall employee performance and communications.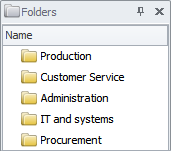 Capturing Time Data for Tasks
Timely delivery of work orders is closely linked to tasks which are carried out by employees. In CentriQS, the way how tasks are scheduled and how employees perform their tasks can be tracked by time attributes such as Estimate, Actual, Remain and Deviation. These attributes help you set estimated completion time, track time actually spent and time currently remaining, and also figure out time performance. Complete analytics data can be generated and viewed in the Task Analytics view.

General Document Management
When you need to issue invoices for work orders, CentriQS helps you make appropriate records in your database and upload your invoices in it. In the Files view you can upload and retain invoices and also documents such as specifications, contracts, templates, etc. All documents available in the Files view can be related to respective work orders listed in the Orders view – this relation accelerates data management in your database and removes the need to share paper documents. Besides, it moves your organization closer to a paperless green office environment.
Need More Information and Guides?
CentriQS becomes more and more popular today, and more and more people begin to implement this package in their business environment to manage work orders. The Knowledge Base available on this website provides lots of manuals, how-to guides and tutorials that help users learn the program, figure out and follow best practices of using the application. Go to the Knowledge Base and explore best practices of using CentriQS in business. In case of questions you can request support service via live chat and by email.