Basecamp has been known for its simplicity for doing projects for many years since 2004. Asana was designed later in 2008, and it also appealed to simple project management. Both solutions are web-based and can be accessed via mobile devices. Both of them ensure user collaboration, task management, scheduling, commenting, file sharing, little customization, and API integration.
And that's why, deciding between Basecamp vs Asana often turns into a challenge for people and companies that want to get the best software for meeting their specific project management. The challenge becomes even more complicated when they need to compare between online and desktop packages. Let's explore the pros and cons of both Basecamp and Asana web-based solutions and also take a look at CentriQS desktop app.
Basecamp vs Asana: Different Approaches to PM
The first thing to take a look at when considering between Basecamp vs Asana is that each product promotes a specific approach to how projects should be managed. If you visit Basecamp's main website basecamp.com, you will see that this web-based service is positioned as 'project management software for team collaboration'. Asana's website asana.com promotes another slogan, which looks like this: 'the shared task list for your team'. Asana solution is also mentioned as 'task management for teams'.
It seems the products offer different approaches to project management (PM). Basecamp provides a project management solution that enables team collaboration. Asana focuses on a task management solution for sharing task lists among teams. While both packages provide team collaboration, they promote different ways for managing projects.
More than Just Project Management
CentriQS provides a much extended approach to project management. Actually, this desktop app is designed to manage everything within a business organization, from tiny tasks, schedules and docs to large projects, sales campaigns and HR. It is positioned as 'small business management software' with rich capabilities for customization. CentriQS links project management to business management.
In CentriQS, project is represented as a multi-tab view that lets manage such components as tasks, schedules, team members, files, notifications, graphs, notes, links, and more. The project view as well as its components can be changed, added or removed, so you can customize your projects according to your specific needs.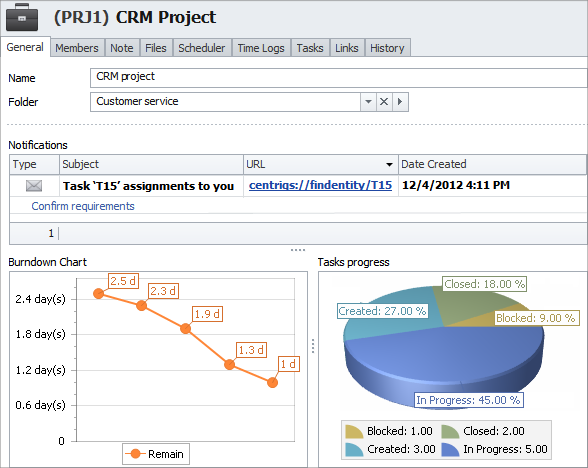 Sub-tasks and Task Dependency
Perhaps, it is impossible to imagine project management without linking tasks to each other, breaking down tasks into sub-tasks, and setting processor-successor dependencies. As a kind of larger, more complex work, any project consists of smaller, more manageable tasks that are assigned to project team members and managed in collaboration. When project manager plans for a new project, this individual needs to define how tasks relate to each other. In other words, the manager needs to identify which task precedes or succeeds another task and what tasks become parts of other bigger activities.
Plain To-do Lists in Basecamp Classic
In 37 Signals' Basecamp Classic solution, there is no way to break down tasks into sub-tasks, neither to create task predecessors and successors. You can't deal with sub-tasks, hierarchies and dependencies. You can only try to make multiple to-do lists (incl. milestones) to describe and link larger activities of your project. For example, an activity 'Create Main Menu' can be represented as a plain to-do list with several tasks such as 'Design Main Icons', 'Code JavaScript', 'Code HTML and CSS', and the like. Then you can link your tasks by using hyperlinks.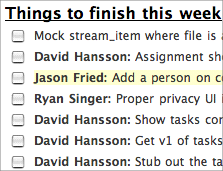 Task Hierarchy without Dependency in Asana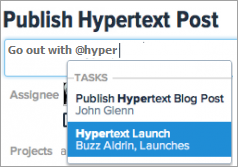 Asana makes it possible to specify parent tasks with multiple sub-tasks. This capability lets you break down larger activities into smaller jobs and also create task hierarchies. Meanwhile, there is no tool to set task dependencies and define predecessors and successors, so sub-tasks do not depend on the behavior of their parent tasks. Just like Basecamp, Asana lets you only add hyperlinks to create relationships between project tasks. And hypertext will be the only way to highlight related tasks, close out duplicates, and link to follow-up sources of information.
Complete Solution for Organizing Tasks
CentriQS provides a complete solution for organizing project tasks. This desktop program beats both web-based products. Why? Because in CentriQS you can do the following to organize your project tasks:
Creating parent tasks and their sub-tasks
Setting predecessors and successors
A mechanism of blocking tasks, depending on the state of their predecessors
A possibility to combine tasks from different projects into a single to-do list
Building hierarchical to-do lists
Using links and hyperlinks to relate tasks to any entities, including projects, customers, campaigns, docs, web pages, emails, etc.

Priority and Recurrence
Prioritization aims to sequence project activities in a way that contributes to successful implementation of the project. Recurrence makes it possible to schedule repeating tasks and jobs, so that team members will know what activities in their to-do lists need to be accomplished on a regular basis.
Basecamp Simple Task Reordering
It's a pity but priority and recurring tasks are not implemented in Basecamp Classic solution. You can only reorder your tasks by moving the most important tasks at the top of your to-do list. And a repeating task can be represented as a series of the same tasks within the same to-do list. In this regard, Basecamp Classic would likely be an outsider among other solutions that could offer users features for task prioritization and recurrence. The only thing that could help Basecamp remain a popular enough solution is simplicity but this would work only for tolerant users.

Asana Recurrence Patterns and Priority Headings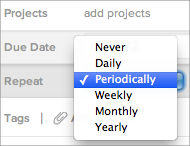 Asana lets you set simple recurrence patterns depending on task's due date. Among common recurrence patterns (Daily, Weekly, Monthly, Yearly), you can select 'Periodically' and then enter number of times your task should repeat after completion. As to task prioritization, this package offers 'Priority Headings' capability that lets create custom priorities and then use these priorities to label or tag tasks. For basic project management, these features would be enough.
More Options for Prioritization and Recurrence
CentriQS improves the way you prioritize and schedule your tasks. This desktop software allows you to set different types of priority, including numeric and labels. A numeric priority type means that you can rank you tasks by numbers from 1 to 999. A label priority type is linked to the numeric type and lets you label your tasks by five ranks (Lowest, Low, Normal, High, Highest). Besides these types, there is one more way to set priority - you can use four grades (A, B, C, D) to prioritize your tasks by urgency and importance (according to the Urgency-Importance Matrix).
Task recurrence in CentriQS provides you a powerful wizard for setting extended patterns for repeating tasks. You can model almost any type of task recurrence. In the Rollup Options you can add additional conditions for your general pattern to specify how your recurring task will be recreated after it's closed or rolled up.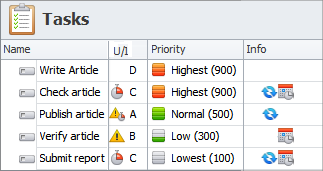 Calendar and Scheduling
Calendar is an integral part of the scheduling process. When you need to schedule a task, event or project, calendar helps you visualize your timetable with the details on when your event starts and finishes and how long it lasts. In CentriQS, Basecamp alternative, your schedule can be shared with others and their tasks and appointments can be also displayed on the schedule.
Basecamp Drag'n'Drop Calendar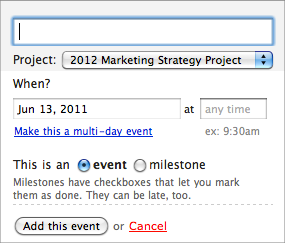 Exactly this idea is implemented in Basecamp Classic solution that provides a versatile, drag-n-drop calendar for scheduling and sharing tasks, appointments, vacations, and whatever else events. Basecamp's website says 'You'll love this calendar', and maybe you will really do. The calendar allows you to add tasks and appointments, share your schedule with others, set permissions so only allowed users will see it, leave comment threads, enclose files to comments, send emails once a new calendar item is added, and make agendas for projects and meetings. A user-friendly design with possibility to highlight calendar items makes it easier to navigate through your schedules.
The bad side of Basecamp calendar is that it does not support right-to-left languages, so for example Hebrew or Arabic speaking companies simply can't use Basecamp in their native language. Besides, the calendar is not good for scheduling events on multiple user calendars, and there are no filtering options, only search is available.
'Sync to Calendar' Asana Solution
Asana doesn't feature a built-in calendar yet it provides a powerful capability for synchronizing tasks and to-dos with external calendar apps such as Google Calendar, MS Outlook and Apple iCal. Today many companies use such solutions, so Asana might be their great choice.
In Asana, you can use 'Sync to Calendar' option to quickly syndicate all of your incomplete project tasks with due dates to Google Calendar or Microsoft Outlook calendar, regardless of assignee. The bad side of this approach is that you need to create an account in Google or have a license of Microsoft Outlook.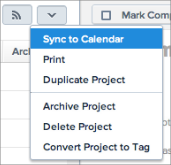 Tasks and Calendars on Single Scheduler
CentriQS provides a better way of how tasks and schedules should be organized and displayed for users. The software features Scheduler that shows tasks and appointments on user calendars. You can switch between several modes (daily, weekly, monthly, timeline) and also use Date Navigator to display your tasks in the most convenient view. Overdue and closed tasks are highlighted with red and gray accordingly (you can set custom colors). The Tasks panel at the bottom of Scheduler lets you drag and drop tasks on user calendars and also show task columns, such as Project, Due Date, Assigned To, Folder, and more. User filter and search will help you quickly focus on needed calendar items.