Almost all Microsoft Project alternative software authors tell that it is the most commonly purchased project management tool, the most used project planning software of all times, the de fact standard for organizing project schedules, resources, and budgets, etc.
They say that it is rich in functions, flexible, and scalable, it is an incredibly capable and complex application, it provides a wide range of advanced features, and so on, but...they wonder if users really demand that much power, if they have enough money for such expensive solution and if they have enough skills for managing this complicated product.
Being Microsoft Project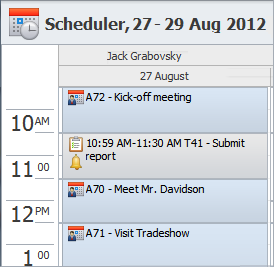 There were no alternatives back in the mid 80's, when the product was originally developed for Microsoft engineers. However, when you are the leader among hundreds of other tools, everybody wants to take your place. All the competitors try to find the reasons why users should want to replace the gold standard, but the main reason is that MS Project has millions of users worldwide, and all its SharePoint alternatives want a piece of that pie.
Who looks for replacement?
Let's analyze the typical complaints used by Microsoft Project alternative vendors, when they try to convince users that their application is much better than the best software which every manager loves to work with.
Difficult to use
Not flexible
Expensive
If you are the single user and you agree with these reasons, than maybe, you are really not the target audience of MS Project and need a simple tool which in fact can be a task management software, because project management is a complex topic. True projects cannot be simple because they include work schedules, timelines, budgets, employee work hours, and many other things project managers should organize and control.

However, the reasons mentioned above do matter for multiple users who want to use the product for project collaboration. For that purpose they need to buy MS Project Server which is truly not easy to deploy and quite expensive for small business.
Microsoft Project vs. Microsoft Project Server
MS Project Server is not so popular among Microsoft Project users, because it is complicated to setup and maintain. They continue using their non-networked versions and their projects quickly get out-of-date, because their project files versions are unconnected and not updated simultaneously.
Why? The majority of users need to perform daily tasks and routine processes that should be completed quickly and without any difficulties. In spite of being a very powerful application which can be adjusted to the needs of multiple users, MS Project Server is difficult to install even for IT-experts and its usage is far from intuitive.
Microsoft Project Server Alternative
CentriQS is a genuine Microsoft Project alternative because it is suitable for both basic project management and complex project collaboration requirements, for a small team and mid-size business, for users that need a simple, quick and effective way to deal with numerous projects and solve routine issues. There is no need to buy a high price server application like MS Project Server to enable collaboration environment as CentriQS already has a built-in server which allows multi-user access.