Regardless of industry and type of business, any small-sized organization needs to manage its inventory records to ensure accuracy in counting goods and materials in stock. Effective inventory management lets prevent interruptions in production, sales and service at the minimum cost. With help of small business inventory software you can enjoy effectively managing your company's inventories. Such software lets you cut costs, increase personnel productivity, plan sales and keep track of clients.
Reduce Business Costs and Avoid Shortage
Inventory is one of the highest expenses for most small organizations, so waste or improper counting of goods and materials cause big losses. Small business inventory software helps prevent any losses as it allows you to accurately count and order all products available in your stock, so you won't have a shortage or overstock.
CentriQS lets you create a business dashboard that shows Orders, Inventories and Revenue Analytics of your company. The dashboard will help you organize your activities, reduce business costs and avoid shortage. The Inventories section of the dashboard lets you view inventories currently available in your stock. In the Orders section you can see current purchase orders. The Revenue Analytics section shows you a report on product sales.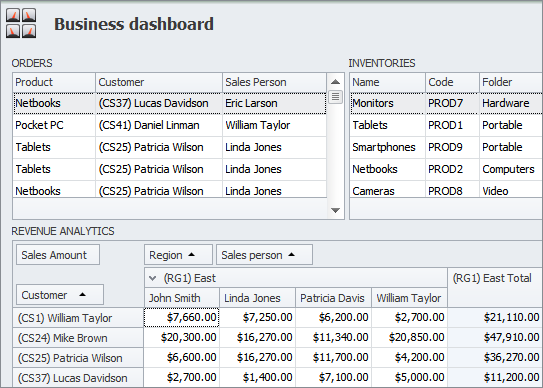 Increase Staff Productivity
Effective inventory management involves a lot of effort. Managers have to constantly keep track of what is currently available in stock, how many products they will need for the next month, and how long it will take to receive new materials and products. With help of small business inventory tool you can manage all of these activities quicker and much productively.
For instance, CentriQS application keeps all business information about your inventories in a single database. You can access the Inventory view in your database to track stock items by Name, Code, Folder, Available, and other properties. You can use filters and search capability to focus on necessary items listed in the Inventory view.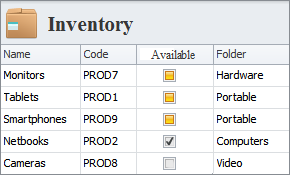 Plan Effective Sales through Analytics
Planning of sales is closely linked to inventory management and analytics. When you are going to sell something, first you need to be sure that the necessary item is available in your stock. In case you don't have it available you need to produce or order the item as soon as possible. Sales analytics reports will be the best way to plan new sales. Analytics enables you to identify inventories sold and explore assets available in your stock.
When you use CentriQS small business inventory software you always know what items are available for selling or already sold and what items should be purchased for business needs. This package lets you analyze inventory items your company sells on a consistent basis, so you can plan effective sales and purchase orders. You can access the Sales Analytics view to build and print out various analytical reports on your sales. There you can measure your sales activity against performance, salesperson, customers, suppliers, etc. and see which assets are includes in which purchase orders.
Keep Track of Client Records
When you run your business you need to partner with a number of clients, including buyers, vendors, suppliers, contractors, etc. Managing your partners requires you to keep all client records in one place to simplify tracking and analysis. Besides, all the data should be linked to your business inventories so it would be easier for you to plan and manage purchase orders.
CentriQS as Small Business Inventory Software
By using CentriQS small business inventory application you can efficiently keep track of clients and manage related records. Along with safely storing all client information in a single centralized database, you can track your partners by Name, Purchase Order, Invoice #, and other details.
Manage Inventory Orders and Deliveries
Basically, managing various inventory orders means paying attention to three key aspects of any inventory, including Time, Buffer Stock, and Document. The Time aspect relates to understanding how long it takes for a supplier to process an inventory order and execute a delivery. You need to deal with exact lead times to make it possible to know when it is the best time to place a new order. The Buffer Stock aspect means that you need to calculate and account additional units above and beyond the minimum number of assets required to maintain business activities. And the Document aspect involves you in keeping records of the delivery of inventory orders and the movement of those orders into operational stage.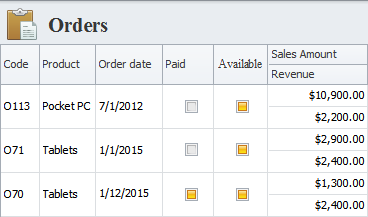 With help of CentriQS software you can plan and manage inventory orders with ease. The Orders view keeps all information on your orders, and you can keep track of each item by Code, Name, Quantity, State, and more. To focus on needed items you can use filters and also full search capability. To view how your orders relate to other entities (e.g. tasks, clients, suppliers) in the database, you can extend your current Order Detail view by adding new tabs and fields.